Page 3 of 3 •

1, 2, 3
I know it has been a while,  all of my free time for the last four weeks has been studying /preparing to two qualification boards at work


but now that is out of the way, I have been able to focus on more enjoyable things.
http://i35.servimg.com/u/f35/19/37/00/52/20160713.jpg
The wiring isn't as clean as I would like and I am open to suggestions. I also noticed a black streak on the #1 spark plug which I stripped out 2 years ago and had to put a sleeve in...put some more lock-thight on the sleeve and hopefully that will band-aid things for awhile. If not,  I may be looking for another head.
Last edited by JWILL on Tue Jul 26, 2016 10:20 pm; edited 1 time in total
Looks great but for sure someone along the way has put your distributor drive gear in the wrong position .Nothing worse than a repaired spark plug head. Keep an eye on it.
Complete Dub Addict




Number of posts

: 907


Location

: outside savannah ga


Registration date :

2011-12-11



Lock-thight didn't work, trying JB weld...fingers crossed...I really am not looking forward to pulling this engine again.

Time to pull that motor and bring it too me. Put some new heads etc on that bad boy and get er going. I'll cut ya a break on labor if ya buy the parts from me.
Complete Dub Addict




Number of posts

: 907


Location

: outside savannah ga


Registration date :

2011-12-11



Not sure I will be able to make it out your way anytime soon...when I get back in town (near the end of the year). I may make it out to Savannah.
Swapping the main jets from 50s to 55s and the emulsifiers from F5s to F6s this weekend. Hoping it will make a positive difference.
Mild success:!:  Still running hotter than I would like,  but the temp stopped climbing around 220-ish instead of continuing to climb until I shut it off or start letting it idle.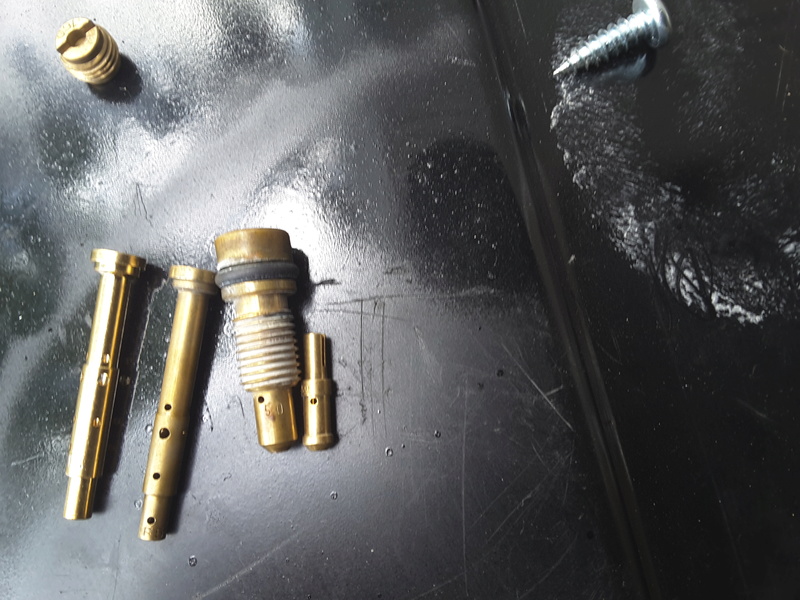 Not a fan of the idle jets I bought, but thrilled to finally have some progress.   Since I changed two things, I am not sure if it was the idle jets, the emulsion tubes or both that is making the difference.  Figure I'll run it like this for a few days and then try the 60 jets to see what happens.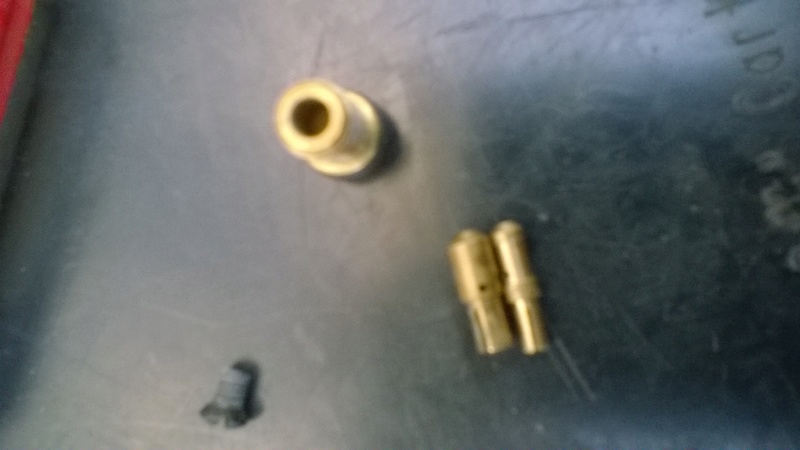 While using the .55 jets helped, it was still getting hot (just at slower rate). Swapped over to the .60 jets and saw no improvement, actually seemed worse. Back to the .55 jets and the F5 emulsifier tube and going to order some different air jet sizes to see what happens.
Just a few tips. 235 is about the upper safe limit on oil temps. The more important reading is the CHT. But that is very difficult to read efficiently. What is telling you that its running hot, other than oil temp? I have a 1776 with dual 40 dellortos in a 60 convertible, which has the least amount of cooling and my engine runs just fine with the tennis ball trick. However, I run every piece of tin that its supposed to have. I even run the thermostat and flaps. Pull the engine, double check all of the tin, fix that head, put the flaps back in and cruise. Single barrel carbs can work, but they tend to not be as smooth at idle as 2 barrel carbs. I assume your engine is stock, so you could get a german 34pict re-bushed and you would probably be more happy.
Complete Dub Addict




Number of posts

: 893


Age

: 43


Location

: Rome, Ga


Registration date :

2010-03-01



Page 3 of 3 •

1, 2, 3
---
Permissions in this forum:
You
cannot
reply to topics in this forum