Hi there,

I took off my pedal assembly to replace my pans in my 69 Baja. When I went to put them back in I got the clutch and accelerator cables without much issue, and was able to put the rod in the master cylinder and the return spring on, but there is nothing stopping brake pedal from coming all the way to the floor towards the driver seat. In other words, the return spring is bringing it all the way to the floor towards the rear of the vehicle. I'm trying to find out what is supposed to stop that. Did I loose some hardware or is it not put into the master cyclinder correctly? Any help would be greatly appreciated. Will try and gbet some photos tonight.

Thanks,
Jim
Dub Noob




Number of posts

: 28


Age

: 32


Location

: Woodstock


Registration date :

2011-05-09



Look at your old pan there is a stop on it. Most likely you will have to make a longer one, the part that goes on the floor with a long slot in it. The holes are never in the correct spot on these high quality reproduction pans.
Dub God




Number of posts

: 2258


Age

: 53


Location

: Out in the shop.


Registration date :

2008-11-11



Yep, sounds like you didn't swap over the stop plate. That plate catches the nub on the bottom of the pedal and keeps it from falling forward. Here's a picture from the samba showing the plate. Like Bob said, aftermarket pans often times have the nut for the stop plate to far to the front of the car, so you have to make a longer stop plate. They are pretty easy to make.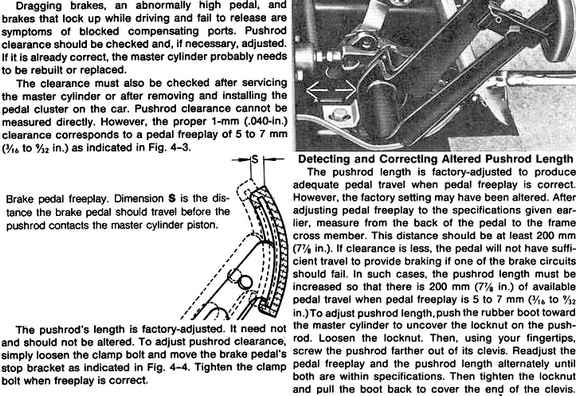 Dub Lieutenant General




Number of posts

: 3855


Location

: Newnan, GA


Registration date :

2008-07-20



Ok, found the old pans and the previous owner or someone had just welded a tab on there, so I guess I didn't even realize something was supposed to be there when I took it off. I did find the nut on the new pans though, so I'll just fab up a little bracket tonight.

Thanks for the help guys!

Jim
Dub Noob




Number of posts

: 28


Age

: 32


Location

: Woodstock


Registration date :

2011-05-09



I went to Lowe's or HD and got a 1 1/2" wide x 3/16" thick flat bar and bent a right angle in a vise. I later cut it to the right length for the floor portion and cut for the proper height. If it is to tall it will rub on the pedals, to short and it will not catch the pedals. You need to check and see if the nut welded to the pan is even close to where it should be. I would make a longer plate with a long slot for adjustment. These pans could be make closer to the org pans but for some reason they just keep stamping them out with all the errors. Some brands are worse than others.

Basically you're going to make a longer version of that little silver plate in the pic that Eric posted above.
Dub God




Number of posts

: 2258


Age

: 53


Location

: Out in the shop.


Registration date :

2008-11-11




---
Permissions in this forum:
You
cannot
reply to topics in this forum